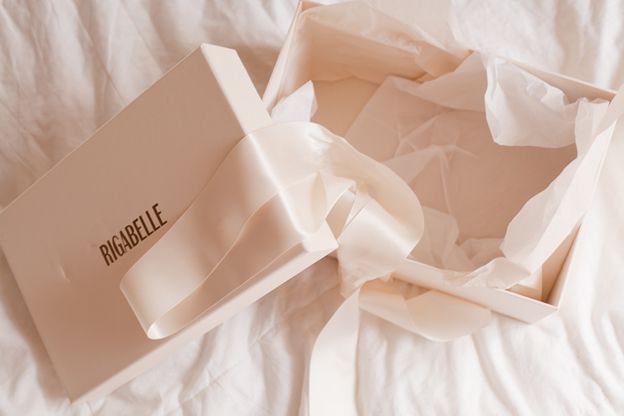 A few days ago I woke up to a beautiful ribboned box from

Rigabelle

. I love surprise gifts and surprise gifting, I love the feeling of excitement and that funny terrified feeling at the same time, not knowing what to find inside. It's the magic of a surprise. Since I'm often on the go I started to gift through online gift sites more and more, flowers, cakes and gifts for birthdays, births and just because ;) I think the presentation of gifts is so important since hardly anything beats a gorgeous ribboned treasure and that's one of the main reasons I love gifting sites so much!

Rigabelle

keeps the surprise a surprise on both ends, you fill in a questionnaire and they will create a beautifully customized gift box like mine. For my box I filled in; Fashion, light pink, light blue, glamorous and slightly romantic and I loved what I got. The DKNY purse is perfect, light pink, gold details and can be worn as a cross body! The teddy bear is so cute and it added a personal feel, touch and sweetness to the box.
xoxo
http://rigabelle.com/